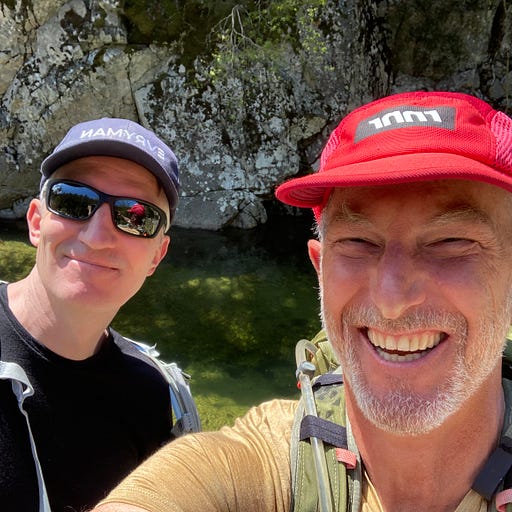 Jul 25 • 1HR 4M
The Periodic Table of Love, with Michael "Roddy" McDowell
Conversations about men, identity, love, becoming ourselves—and becoming more human // Episode 02
A series of conversations about men, identity, love, relationships, sexuality, becoming more ourselves—and becoming more human.
In this episode, I talk with my friend Michael "Roddy" McDowell, a former Navy pilot instructor who now flies wide-body commercial jets and is also a year into a Master of Social Work program at NYU Silver. He's one of the most interesting guys that I know, and also one of the first people to come into my life directly by way of my writing. I'm honored and very happy to share with you our conversation about becoming ourselves, depression, how we practice relating, somatic sensing and expression, and the periodic table of love.
Notes for this episode
Rock star status // what makes for "interesting." Freedom to be ourselves.
The cloak of inadequacy. The pivotal moment, taking in sense of being somebody. Becoming a social worker / therapist / guide. Embodying changing identity. Excited curiosity vs tentative fear. Endings vs beginnings—and, "there is no place where I will conclude."
Depression—and feeling shame about sharing that. Doing something—perhaps something radical—as a response to depression to get the wheel turning the other way. Turning over the card.
"I practice loving myself." Everything's a practice. We get good at what we do. You can practice anything, but you can't just declare yourself to be something. Practice does not "make perfect." There is no end—you practice.
Daily practices—not as a strict list, but as a collection of tools. The critic as a teacher.
What is "mens work?" A place to practice relating—and a sort of relational yoga. Relating is expressing, so practice relating is also practice being yourself.
The love of men. Respect. The story of love is incomplete. Our experience of the absence of love, and guarding against that leads to the conclusion that "I don't need love," and the soul doesn't come alive (see the writing of Richard Rohr). The cultural stories that we tell about men not needing love, in an attempt to make ourselves feel OK with not having enough of it—to try to survive without love (see the writing of Warren Farrell and also bell hooks).
Roddy coins an expression: "The periodic table of love." Expression. Play. Camaraderie. Brotherhood. Listening. Presence. Connection.
Access to love is access to joy.
Somatic practice. Feeling vs sensing. Interoception = the physical sensations in the interior of the body (see The Extended Mind, by Annie Murphy Paul). EVRYMAN method & Owen Marcus. Taking note of and expressing internal sensations deepens our experience.
Thoughts are not feelings. Emotions are fundamentally based in physical sensations. When you voice your physical sensations it gives me a way to understand what you are feeling that is grounded in physical reality. It's a way of communicating more directly—it's a practice of expressing the basic truth of what you're feeling.
Roddy is roddypilot at gmail.com and roddypilot on Instagram.