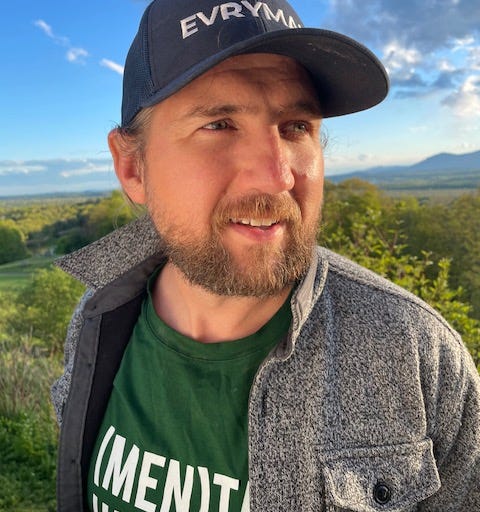 Jul 28 • 49M
The Blessing of Acceptance and Belonging, with Lucas Krump of EVRYMAN
Conversations about men, identity, love, becoming ourselves—and becoming more human // Episode 03
A series of conversations about men, identity, love, relationships, sexuality, becoming more ourselves—and becoming more human.
In this episode, I talk with Lucas Krump, CEO and Co-Founder of EVRYMAN, a global community of men who support each another in their personal growth. I joined EVRYMAN a couple of years ago when I went looking for a community of men that was built from the beginning as a broad, inclusive network with the potential of reaching a large number of men on a national scale, and I've been happy to find that it is exactly that.
Today I talk with Lucas about the chapters of life, disconnecting—and reconnecting—with the self, what practicing in groups can do for us in terms of relational fitness, how somatic practice is what gets us grounded, how this kind of practice that starts with the body is generative and sustainable, how the love of men is a blessing of acceptance and belonging, and how that love can inform all of our other relationships, and everything about the way that we live.
Notes for this episode
Life has chapters. Ending things can be healthy, despite how we tend to look at endings as a tragedy.
All-male environments and experiences and the connection to spirituality.
Leaving to avoid things we don't want to face. Homesick. Disconnecting "the head and the heart" so as to feel less. How the cocktail of distractions from self can also lead us back to a realization about self.
The Grail myth, and how we often get a glimpse of our true self, or our purpose (same thing) in early life, but then lose sight of it or even forget about it entirely until we get a second change, in middle age (see Robert A. Johnson's He for much more on this).
Is it possible to make a mistake in your life path? Or would you really "not change anything at all"? Is there a realm of real error—or at least, confusion? I say yes—and Lucas points out that "not listening to the inner voice teaches you to listen to the inner voice." Turning towards home.
How can we get better at listening to ourselves—and why do a lot of younger men seem to be at least incrementally more in touch with their inner voice, which is also perhaps the voice of integrity?
Good men = good people. At the core, men want to be good, and men are good. Being good feels good. And we can practice being good. Groups like EVRYMAN are a place to practice relating, and a place to practice being yourself. It's about "relational fitness." Practice "showing up" so that men can embody that so that they can take that skill out into the world.
The power of group work is due to our hard-wired need for connection. How somatic practice gives us a way to communicate and connect that is elementally true and doesn't require any interpretation. It creates a foundation for understanding—and it also connects us to the joy of the present moment. This is what it means to be grounded — to be connected to the physical experience of the body in the present moment, which is the fundamental place where self resides.
Disconnection from self. Connection to self needs to be bottom-up. It needs to be embodied to be generative and sustainable. Self-awareness begins in the body. Taking feelings as messages vs. all-encompassing experiences that take over. This is what allows us to regulate our responses—not to 'control' ourselves, but to understand and see our feelings before we just respond to them. This somatic self-awareness in feeling the body can lead directly to greater self-awareness at 'higher' levels—emotional, intellectual, spiritual.
How love can expand with what men can bring to it. "The love that is trapped in men's hearts is the most underutilized resource in the entire world." Men are used to having to "earn our way into being." The blessing of acceptance and belonging is a form of love. So is truth—saying what we mean and meaning what we say. We are bored with the lack of truth—it makes the world less interesting. The truth is intrinsically interesting.
Every man has love in his heart. We're all tired of not loving enough. "There are a lot of men that are angry because they are not receiving love. If we're denied this nutrient that we need to exist, then…we get angry."
The experience of love relationships between brothers, and how much of that experience is the same as with romantic relationships. The richness of those relationships—and the emptiness that I felt without the fulfillment of relationships. The energy that comes from love is a superpower.
You can reach Lucas at lucas@evryman.com and EVRYMAN.
Thanks for listening! Subscribe for free to receive new posts and episodes, and get access to subscriber-only articles.